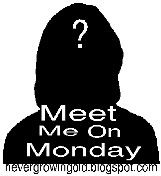 Carla here from
Dream a Little Dream
! We are new bloggers and stubbled across "Meet Me on Monday" It looked like so much fun!! I hope I have done this right hehe! So here we go....
Questions:
1. What is your favorite kind of pie? Apple Pie!
2. Have you ever ran out of gas in the car you were driving? No... My DH makes sure of that.
3. How many languages do you speak? Only one... English
4. Do you take daily vitamins? I always try to remember it.
5. What is your worst eating habit? I absolutly LOVE cheese dip, but my waistline HATES it!